Getting Your Project Ready for Printing: A Prepress Digital File Checklist
If you're using a professional online printing service, most likely you'll be submitting your design to be printed in a digital file.
However, there is nothing worse than seeing a perfect project on your computer screen only to receive a printed project that looks different.
One of the best ways to avoid this preflight discrepancy is to make sure the digital file you send to the printer follows the printer's production checklist.
Most printers have templates and pre-flighting checks available when you upload to tell what is wrong.
You can find our printing production templates here to download when creating your designs.
This way there will be no confusion or conversion on behalf of the printer, and the finished product will look exactly the way you pictured.
By taking the time to check a few requirements and guidelines before you submit your files, you can go a long way in ensuring that your finished product meets your print standards and requirements.
A prepress checklist that you should always use before submitting your printing files
Document size and trim size match
Bleed around the edge of your project 1/8 or .125
CMYK color and not RGB color for the right color separation
File images being submitted in a separate folder or embedded in the application
Save files as 300 dpi jpg
Make sure all your file images resolution is 300 dpi
If applicable, do your fold lines match the standard folding styles?
Fonts in a compatible format such as postscript type 1 and are not corrupt?
Are your files saved in the correct format?
Most printers recommend submitting your files in either .eps, .jpg or .pdf files
All printers will vary on which file type to use. Talk to your printer beforehand to know which file type is recommended for your particular project.
Proofread and color proof
Have crop marks and bleeds
Color separations CMYK
Folding matching printers template
Use postscript or outline fonts
Imposition on multi-page design
Output high-resolution fonts and images 300 dpi
This checklist has the basic guidelines you need in order to have a successful conversion from your digital file to the finished product.
It's also smart to talk to your printer to see about any special guidelines or requirements that the company may have.
This will, once again, ensure that there is no change between the file that you send in and the product that is ultimately printed.
Salt Lake Mailing and Printing. This article is a guest post for HFB Advertising, Inc.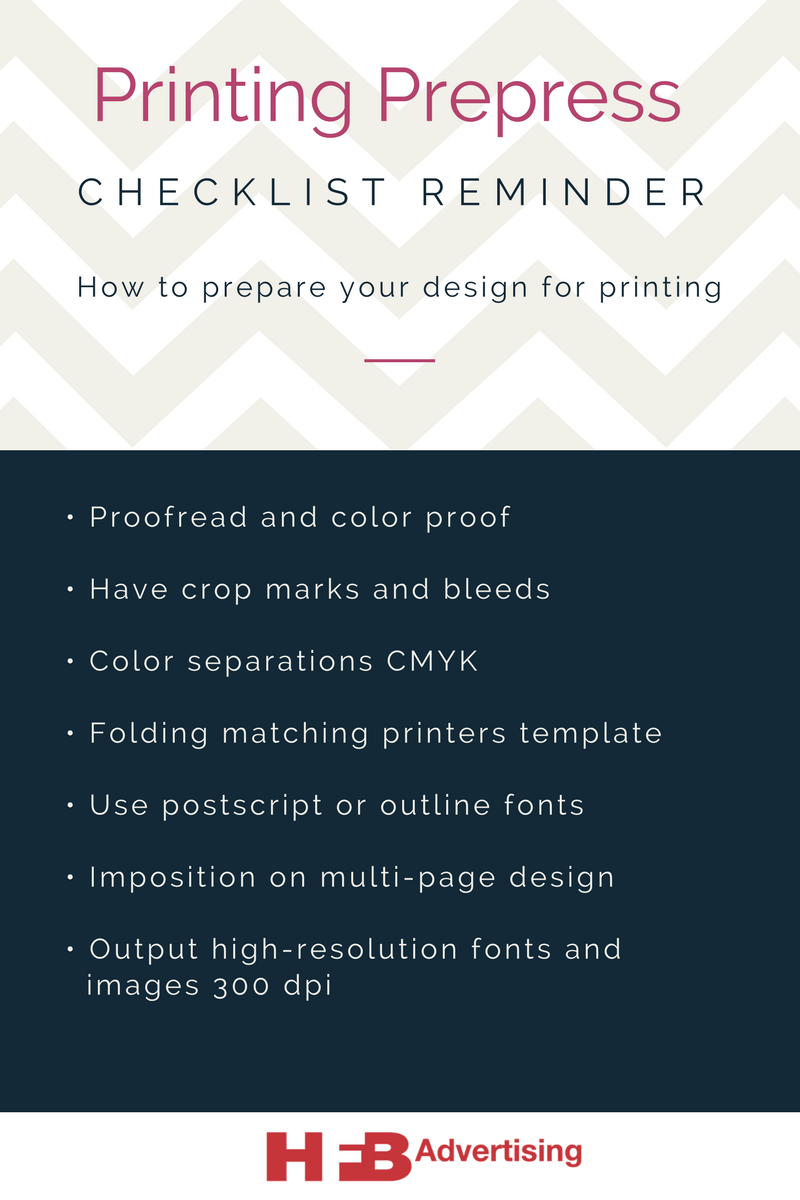 What to do next…
Leave a comment
Share this awesome post and make us extremely happy
Get in touch with us about our services
Thank you for reading our post!